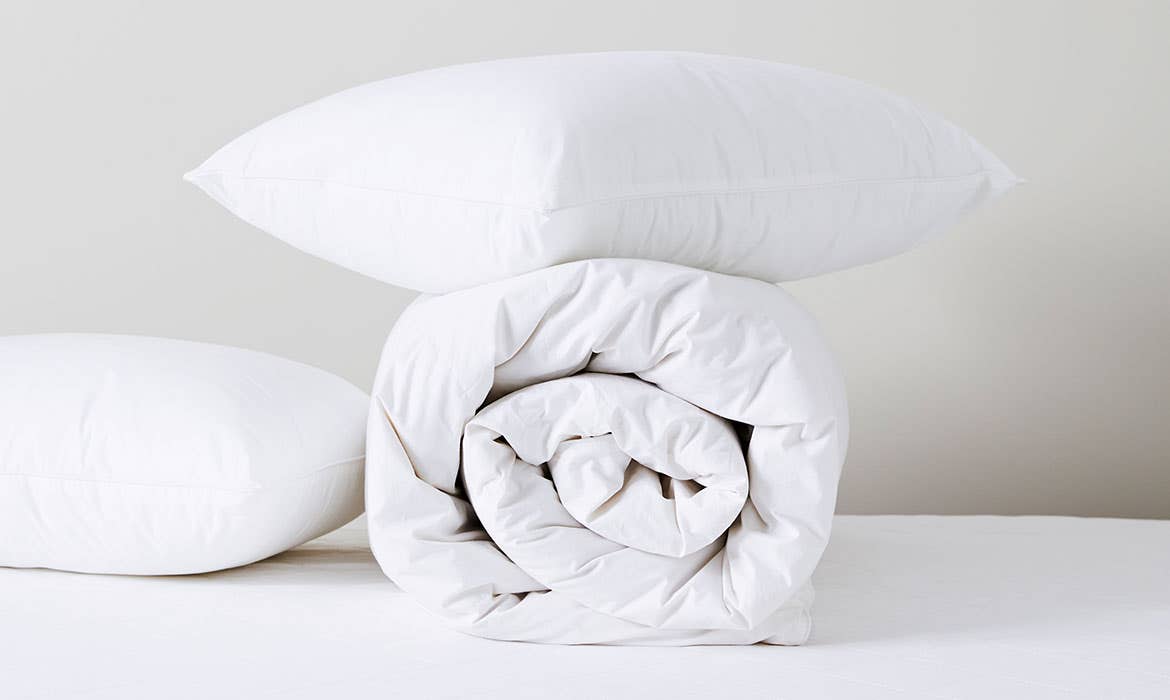 With so many fills and weights to choose from, finding the right quilt can be confusing. Based on your warmth, weight, and fibre requirements, we're her to help you find the perfect quilt for you!
STAFF TIP: Mix and Match with our Combination Tie System
Our combination quilts are the perfect versatile option for all sleepers and seasons. The Seasons Australian Pure Wool Filled Quilt comes with 2 quilts included; one lightweight 4 TOG quilt and one warmer 7.5 TOG quilt. By combining both quilts you'll have an extra cosy and warm 11.5 TOG quilt - great for cold sleepers and those extra chilly nights in winter. As the weather gets warmer, simply use the lightweight 4 TOG quilt on its own for a lightweight layer. All of our Luxury Goose Down and Classic Goose Down Quilts also come complete with a combination tie system, making it easy to layer and swap out quilts depending on your temperature and comfort preferences.
Shop by Temperature Preference
One of the main things to consider when selecting the best quilt (or duvet or doona) is your temperature preference. Are you a hot sleeper? Cold sleeper? Do you live somewhere warm and humid or in a cooler climate? Choosing a quilt based on these factors will ensure you maintain a comfortable temperature and sleep soundly throughout the night.
The Best Quilt for Summer and Hot Sleepers
For those who find themselves getting too hot at night, we recommend a lightweight, absorbent, and breathable quilt. Materials that are great at providing this lightweight comfort are bamboo, wool cotton blends, light goose down, and cotton. Crafted with your temperature regulation in mind, our cool summer quilts will have you sleeping soundly despite the heat.
Shop Cool Quilts & Duvets

The Best Quilt for Winter and Cold Sleepers
For cold sleepers requiring a little bit of extra warmth, or for those looking for the warmest quilt for winter, we recommend goose down, duck down, microfibre, or wool fillings for quilts and duvets. These fill varieties are great at trapping in heat and keeping it close to the body, ensuring you stay cosy all night long. If in doubt check the TOG rating - the higher the TOG the warmer the quilt!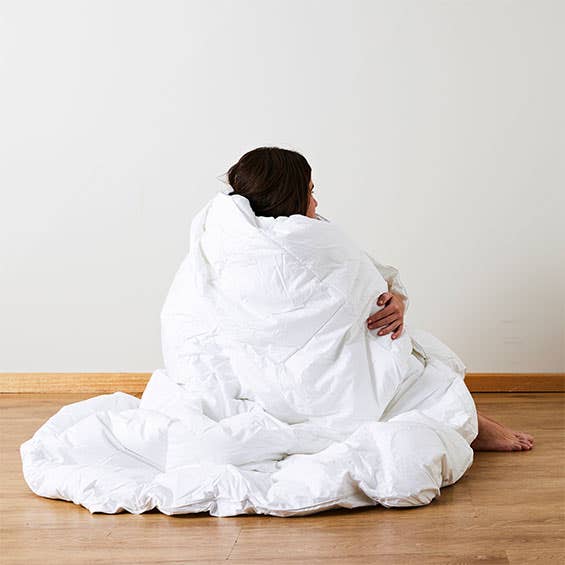 Shop Warm Quilts & Duvets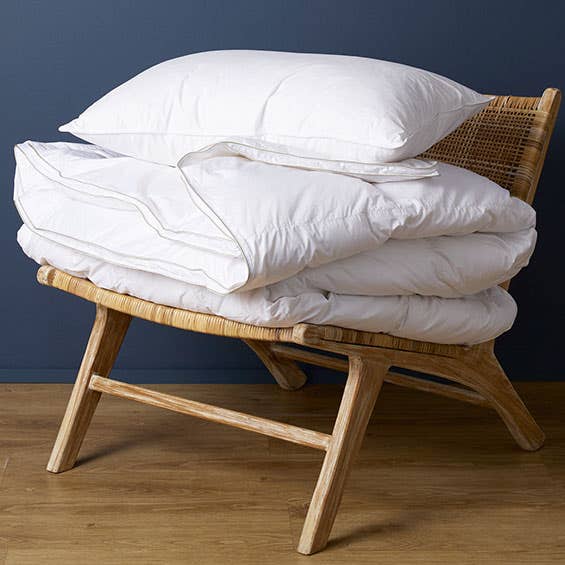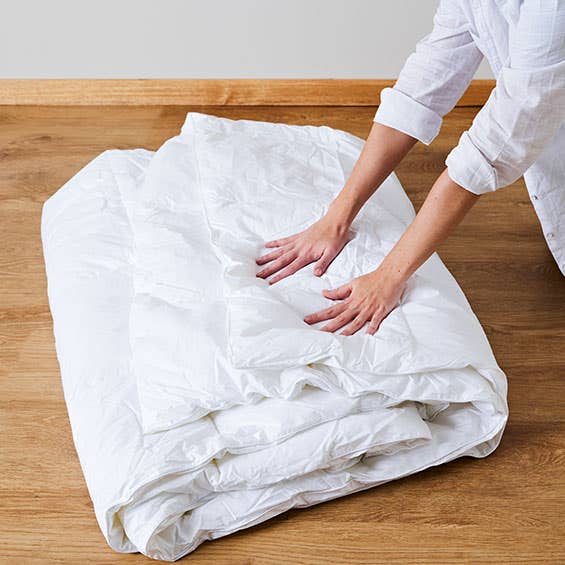 The Best Quilts for All Seasons
Our Cotton and Microfibre Quilts are both great options for year-round use, keeping you cool in summer and warm in winter due to their natural temperature-regulating properties. Our light and airy duck and goose down and feather quilts are also great for any season or temperature preference, finished with combination ties so you can mix and match as desired.
Shop Trans-Seasonal Quilts

Shop Quilts & Duvets by Fill
From luxurious goose down to lightweight & hypoallergenic bamboo, we offer quilts in a variety of fills to suit any comfort preference.
Cotton Quilts
One of our most popular quilts, Cotton is simultaneously lightweight and cosy. An all-natural fibre, cotton is inherently breathable and absorbent, keeping you feeling fresh and comfortable throughout the night. Naturally lightweight and an excellent conductor of heat, it is the perfect quilt filling for any season or temperature preference.
Wool Quilts
Wool quilts sit flatter and tend to feel heavier than goose down and microfibre quilts, making them ideal for cooler months and cold sleepers. Wool also has the ability to create a microclimate helping regulate your body temperature and reducing hot spots. It is also breathable and absorbent, allowing you to stay cool in the summer months.
Microfibre Quilts
If the softness, lightweight feel, and warmth of goose down sounds like bliss but allergies are standing in your way, choose a Microfibre quilt. Microfibre quilts are filled with a polyester microfibre and are lightweight, have excellent loft, and can be used all year round. They are also machine washable, making them wonderfully easy to care for.
Bamboo Quilts
Our favourite eco-friendly quilt, Bamboo is environmentally sound to produce and is resistant to mould, dust, bacteria, and odours. It is also an excellent choice for allergy sufferers as it is hypoallergenic. With less loft than other fibres, bamboo is perfect for those who live in warmer climates or for use during the summer months.
Feather and Down Quilts
If you like a quilt that is luxuriously soft, light and fluffy, then a Duck Down or Goose Down quilt will have you instantly drifting away into an undisturbed slumber. Goose and Duck down quilts have warmth without weight. Being a natural fill, goose down is durable and able to breathe, keeping you warm in winter and cool in summer.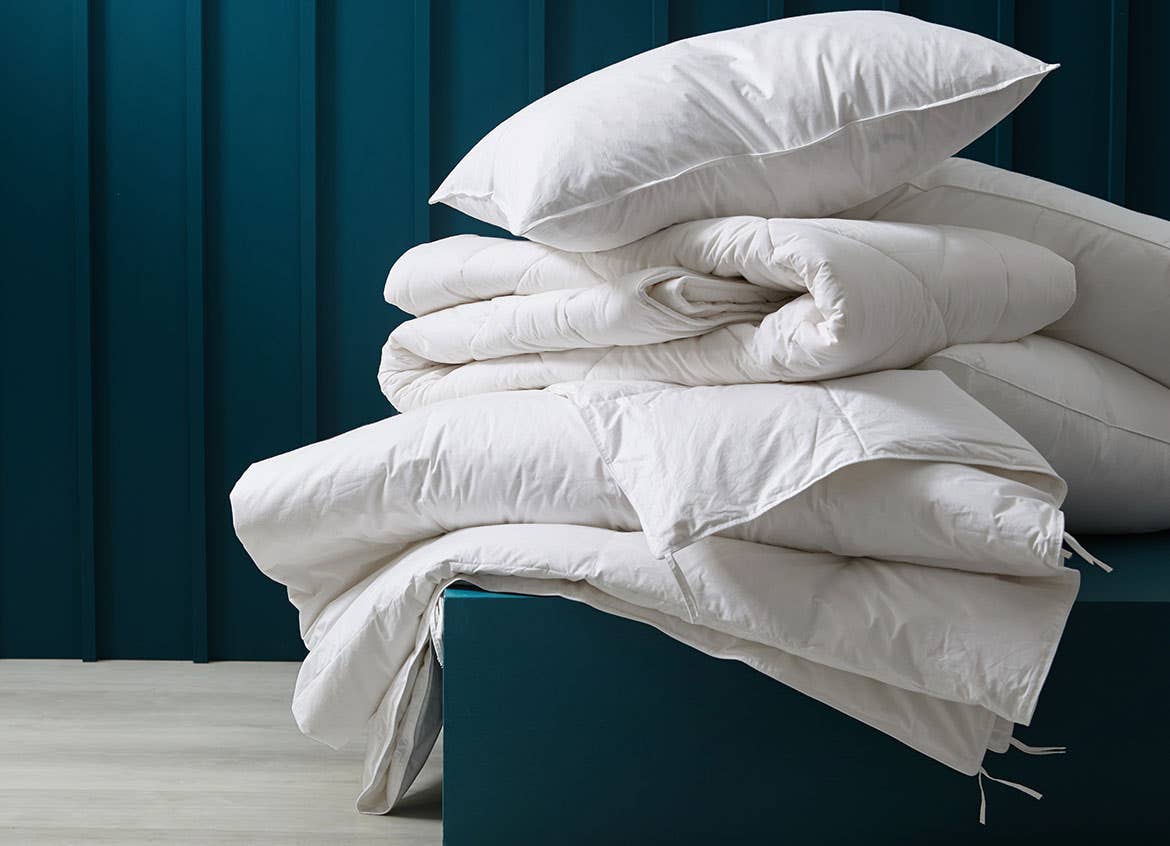 Browse our range of quilts & Duvets (also known as doonas in Australia) online or in store to find the best quilt for you.